One of my favorite gospel songs is "Long as I got King Jesus" by Vicki Winans. Every time it comes on, I immediately hit my best Baptist church rock; fully accompanied by loud, off-key signing, and rhythmic clapping. Yes, that is my song! "Long as I got King Jesus, I don't need nobody else!"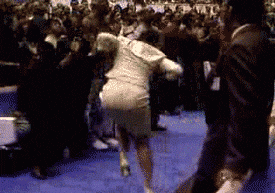 That is truly how I felt for a long time; I felt content with just barely getting by with my relationship with God…even though He was the only active person in our relationship.
But as it turns out, I do need other people. I need people in my life to hold me accountable during my walk with the Lord.
As I continue to grow in Christ, I realize that the song is not saying that I should completely avoid and alienate other people, but that I should allow my relationship with God to supersede earthly relationships. In fact, the bible encourages me to maintain good relationships with others (Exodus 20:12 and Proverbs 17:17, to name a few), but nothing should come before Him…not even me.
When I attempted to do things in my own strength (aka Pride), I always failed. It is when I realized that I was NOTHING without God and everything through Him that I was able to even remotely succeed at anything in life. And to be clear, it was not that I was succeeding, it was that He was made perfect through my weakness. However, in order to get from point A (doing things on my own) to point B (doing things with and of God), I had to have someone by my side, holding me accountable for all that I did.
Open your bibles to Galatians 6:1-5 (NIV is below):
Brothers and sisters, if someone is caught in a sin, you who live by the Spirit should restore that person gently. But watch yourselves, or you also may be tempted. Carry each other's burdens, and in this way you will fulfill the law of Christ. If anyone thinks they are something when they are not, they deceive themselves. Each one should test their own actions. Then they can take pride in themselves alone, without comparing themselves to someone else, for each one should carry their own load.
In this passage, Paul is encouraging the people in the churches of Galatia to continue to pray and help one another, while also holding each other accountable. When we see that someone is caught in sin (burdens/troubles/shackles), we who are in Christ are charged to help that person find a way out. This is when we jump in to pray and intercede on behalf of this person. Let me rephrase that: this is NOT when we jump to conclusions and judge, this is when we battle spiritually for that person. Paul further says that when we reach in to help, we must be careful not to fall ourselves. Imagine if I was in a ditch and you leaned over to help me out. If your footing is not stable, you will fall into the ditch and then we would both be stuck. Who would help us then? For this reason, we must always be careful when holding others accountable.
For most of my life I have only had one accountability partner, my best friend, Amy. As God continues to add blessing upon blessing to my life, He also adds more people to hold me accountable…and more people for me to hold accountable. As in Paul's text, I am charged to "restore that person gently," meaning I am to help them without ridicule, judgment, and embarrassment. Yes, I am charged to help them as Jesus helped me.
Having a true and genuine relationship with King Jesus is the most important thing that we will ever do on this earth. Nothing else will ever matter as much, as all of that will pass. Money will get funny, cars will break down, homes will come and go, etc., etc.…. But Jesus is permanent. Because our relationship with Him is so important, the Father saw fit to give us friends/family members/prayer partners whose sole mission is to keep us close to Him. Isn't that good news?!
We cannot and should not walk this earth alone; instead, we should walk with like-minded people who will continue to hold us accountable and pray for us during our walk with God.
Be blessed.